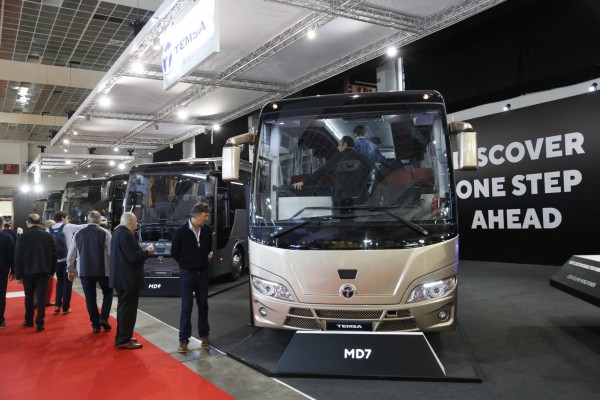 Over the first two months the bus and coach registrations increased with 4.6% and in February by 3.1% compared with the same month in 2019. Germany is the absolute winner with a plus of 33.6%. But with the closing down of factories worldwide due to the Covid-19 virus the future does not look very bright.
In the second month of this year after number one Germany, France was second with a growth of 32.1%. Third was Italy with +26.7%. ACEA states that both countries posted solid growth during the second month of 2020, giving a boost to the region's overall performance. However, demand for new buses and coaches fell significantly in Spain (-41.5%) last month. From January to February, the European bus and coach market expanded by 4.6%, with 5,738 new vehicles registered in total across the EU. Demand increased in France (+29.4%), Italy (+19.9%) and Germany (+12.8%), while Spain recorded a decline (‐21.7%) compared to the same period last year.
The contrast with the truck and van registrations is strong. These sectors showed in total a decrease of 6.2%. Except bus and coach all vehicle segments reported a decrease in registrations. In February 2020, commercial vehicle registrations fell by 6.2%. With the exception of France (+1.6%), all major markets contracted last month: Germany (-7.6%), Spain (-5.9%) and Italy (-4.0%). And in the first two months the EU commercial vehicle market declined by 8.9% to 308,350 units. Spain (-12.8%), Germany (-7.6%), France (-3.6%) and Italy (-3.5%) all saw a decrease in demand for commercial vehicles so far this year.
The light commercial vehicles (LCV) up to 3.5t show a drop in registrations in February of 4.0%. Three of the four largest EU markets posted negative growth last month: Italy (-6.2%), Spain (-5.9%) and Germany (-3.8%). By contrast, France performed better than in February 2019 (+3.0%). During the first two months of 2020 demand fell 7.1%. Demand for new heavy trucks continued the downward trend that started last summer, marking the eighth consecutive month of decline in this segment (-19.3%). Registrations declined in all major EU markets to a total of 38,004 heavy trucks, or 20.6% less than during the first two months of 2019. For medium and heavy commercial vehicles (MHCV) over 3.5t registrations in the EU decreased by 18.7% (46,295 trucks) in the first two months, but an increase was reported in Italy (+9.7%) and Spain (+0.6%) last month.